DISCOVER YOUR LOCAL BICYCLING COMMUNITY
Find local advocacy groups, bike shops, instructors, clubs, classes and more!
For all of those who have been following Ray LaHood's blog the Fast Lane and the U.S. DOT Policy Statement on Bicycling Accommodations for including bicycling and walking as viable forms of transportation, you know that there has been an uproar of shock and unreasonable comments amongst the car-centric transportation supporters. But those who favor car-only options are actually the minority. People want options, and we can't argue the numbers. Thanks to a national poll conducted by Transportation for America we know that four out of five voters–82 percent–support the idea of an expanded U.S. transportation system. Also according to the survey, 59 percent of Americans would choose to reduce road congestion by adding more transportation choices — like bicycling and pedestrian options.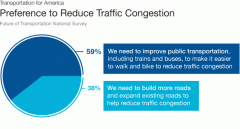 The poll also showed that most voters have no choice but to drive their car but wanted more options.
LaHood writes on his blog the Fastlane, "This is not just Ray LaHood's agenda, this is the American agenda; people want alternatives to the automobile." Urge your governor and state DOT to support the USDOT policy statement on bicycling and walking.